We are a horticultural, historical, artistic and culinary destination that offers many types of experiences.
The Reford Gardens are located in Grand-Métis, Quebec, on the south shore of the St. Lawrence River, halfway between Rimouski and Matane.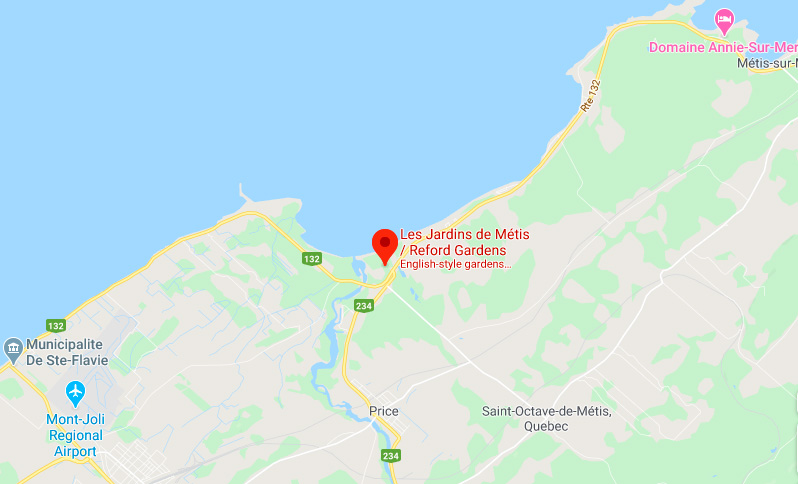 OPENING DATES
The gardens are open from June 4 to October 2, 2022
OPEN HOURS
During the high season (July and August), the gardens are open every day from 8:30 am to 8 pm, including holidays.
Ticket booth closes at 6 pm in high season and 5 pm in June, September and October.
RATES
Adults: $22
Students*: $19
Young adults (14 to 18)*: $11
Children (13 and under)*: Free
*Proof of age required.
Taxes included.
We accept Visa, MasterCard, Amex and direct deposits.
Service charges apply when booking online.
You must allow between 1:30 and 3 hours for the visit of the historic gardens and 1 hour for the International Garden Festival, presented from June 20 to September 7, 2020.
FAQ
Frequently Asked Questions
DO I NEED TO RESERVE A TICKET ONLINE ?
WILL I RECEIVE MY MEMBERSHIP CARD BY MAIL ?
WILL I HAVE TO WAIT IN LINE TO ACCESS THE GARDENS ?
CAN I RESERVE A WHEELCHAIR OR AN UMBRELLA ?
SHOULD I WEAR A MASK ?
CAN I ACCESS THE MITIS RIVER PARK WITH MY MEMBERSHIP CARD ?
IS MY TICKET REFUNDABLE IN THE EVENT OF RAIN OR BAD WEATHER ?
CAN I BRING MY DOG ?
CAN I RESERVE A PRIVATE GUIDED TOUR ?
WILL I BE ABLE TO EAT IN THE GARDENS ?
CAN I BRING MY LAPTOP AND WORK OUTSIDE ?
CAN I EXPECT THE USUAL CALENDER OF EVENTS BY MAIL ?
CAN I RESERVE ACCOMMODATION ON SITE ?
SHOULD I RESERVE IN ORDER TO DINE AT THE GARDENS ?
MITIS LAB – ECO House ERE 132
Showcasing eco-construction and sustainable development, the ecohouse ERE 132 has always been a gathering space for innovation partners. It offers the perfect setting for innovative ideas to emerge.
The Mitis Lab is an ambitious strategy which aims at developing an innovation ecosystem in La Mitis. The main vector of innovation proposed are digital technology and sustainable development. Its online platform, collaborative spaces and programme all have the same objectives : gathering the region's entrepreneurial community and empowering to them to move forward with their project.
Consul the website
A beautifully pared-down house by Canadian architect Pierre Thibault located in the legendary Reford Gardens. Over the summer, the home is used by designers and interns. It's an ideal location for strategic retreats, outdoor yoga camps or family gatherings. Comfort, nature and a touch of Nordic-inspired sobriety await you. For ski buffs, the home is roughly twenty minutes away from Mont-Comi. It's also a few steps away from the Mitis River Park for those who prefer snowshoeing or hiking. The Maison des Stagiaires can be rented for meetings or short stays. It can accommodate up to ten people in its three bedrooms and dormitory, and gives renters privileged access to the Reford Gardens.
Book the home