OVER 20 YEARS OF INNOVATION AND CREATIVITY
The International Garden Festival is the biggest contemporary garden festival in North America. Each year, we receive over 200 project proposals from more than 40 countries. In 2020, 60,000 people visited the International Garden Festival and got to safely enjoy the 25 installations!
The theme for the 2021 edition is Magic Lies Outside. (La magie est dehors). This year's festival strives to bring us hope, to inspire creativity, and to brighten up the world as we struggle to make it through the global pandemic and get back on our feet after many difficult months of lockdown. The five projects selected this year will be integrated around the existing gardens to create an open-air museum for visitors to explore.
Since the first edition of the festival 21 years ago, over one million visitors have enjoyed, explored and been moved and inspired by almost 200 exciting and innovative installations. The International Garden Festival is a blank canvas for architects and landscape architects to develop new ways of perceiving and designing public spaces.

JARDINS CONTEMPORAINS
Gardens selected in 2021
Garden description
Doors have long been considered a departure point, a gateway to step through on our way to adventure. Yet in the past year, doors have taken on a different meaning. Rather than throwing the door open and heading to adventure, our doors have remained firmly shut, keeping us apart from the people we love.
Porte Bonheur is a rite of passage between reality and potentiality. The installation invites visitors to dare to throw open the door, to cross thresholds, to go outside and to explore their surroundings with all the wonder of a small child. A reawakening through subtle distortion where a door—our daily symbol of lockdown—becomes something virtual and gradually disappears as the visitor wanders through the installation towards a new horizon. A natural, peaceful horizon, because there's no doubt about it, the magic is outdoors.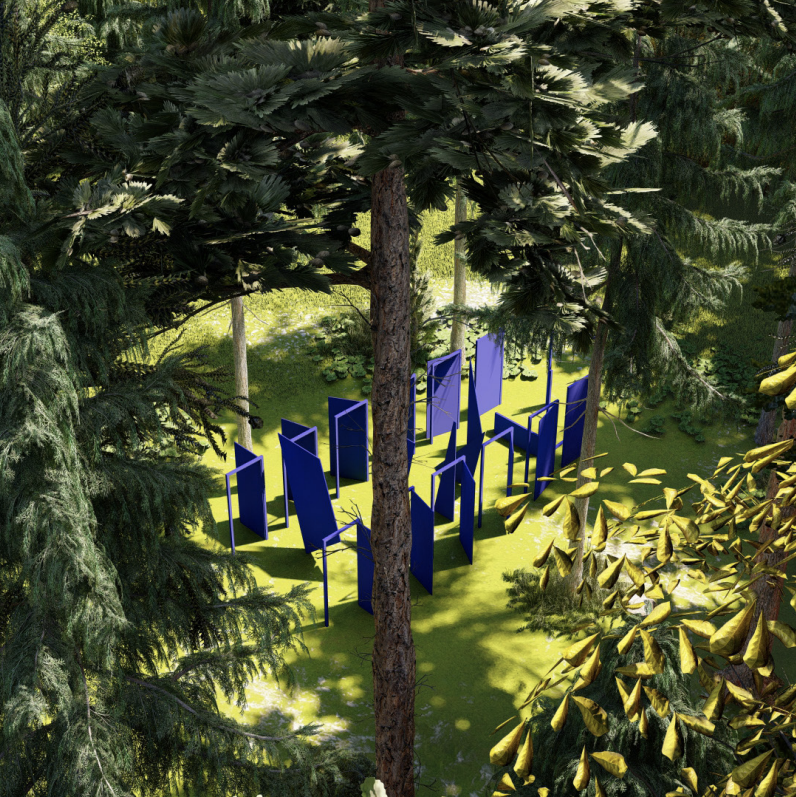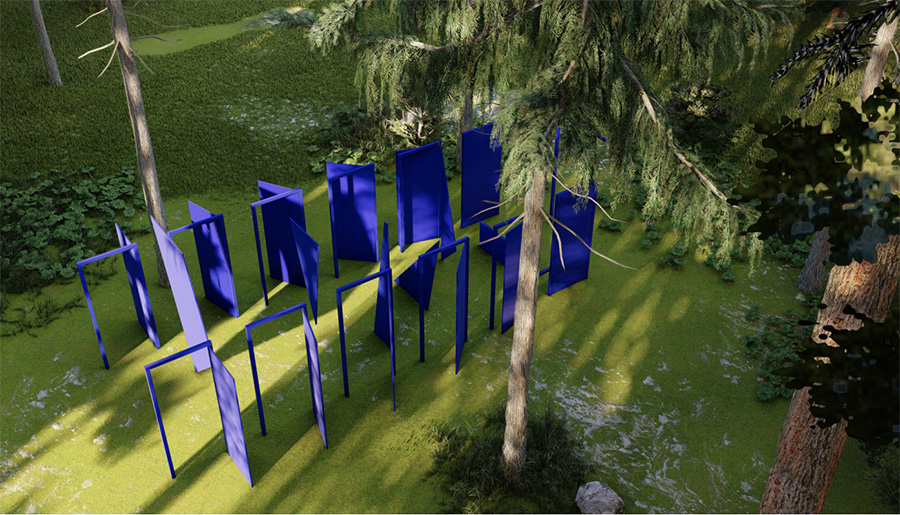 DESIGNERS
Laura Giuliani – designer, architect and CHAMP-LIBRE associate
David Bonnard – architect,
founder of HYTT Architecture
Amelie Vale –  visual artist
Our backgrounds and professional experience as architects, landscapers, graphic artists and artists have given us opportunities to meet and talk about interesting topics that we really care about. Building on the strength of our personal connections and exploring the idea of "playgrounds," we confront our varying ethical, delicate, sustainable, responsible and social approaches to the environment and more specifically to the garden.
Lyon, FRANCE
Garden description
The title of this garden says it all — this installation is a figurative and literal open space. In Open Space, the walls of a typical house are opened out to create an open floor plan with endless possibilities. With a flick of a wand, everyday household objects—doors, staircases, windows and walls—take on new meaning. We can walk up and down the walls, dangle our feet through the door, stand and chat around the staircase, sit on the fireplace, the possibilities really are endless. In the past year, houses have become a symbol of lockdown. In Open Space, they go back to being a fun, safe and familiar place where you can let your imagination run wild. And when you let your imagination run wild, you can find magic anywhere.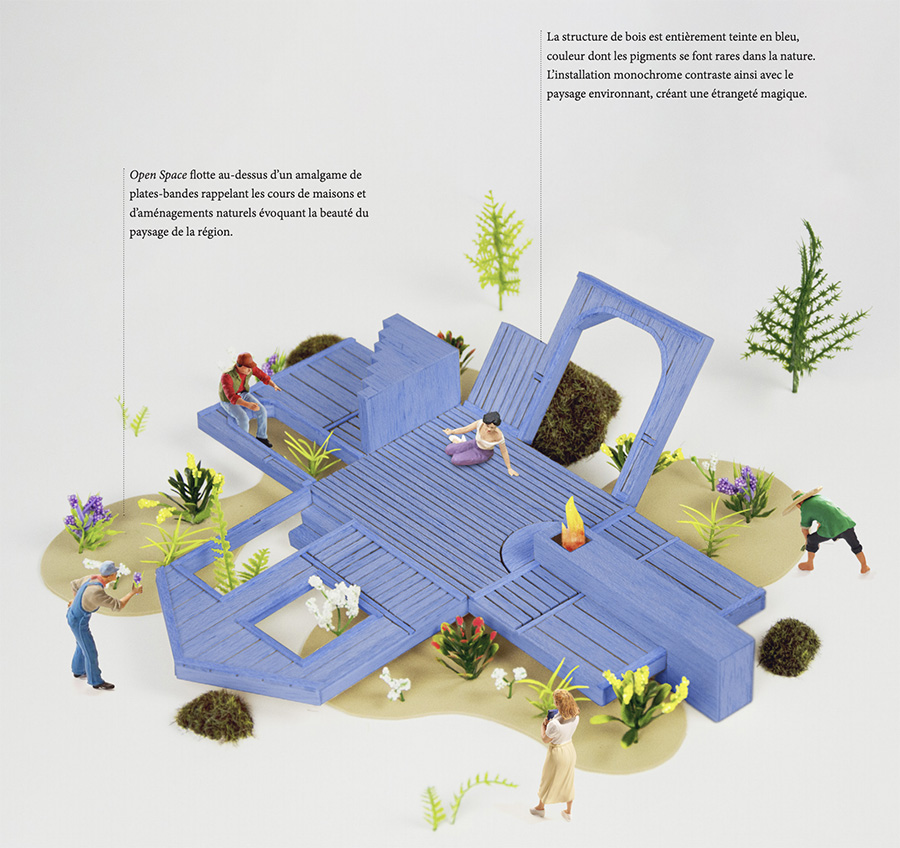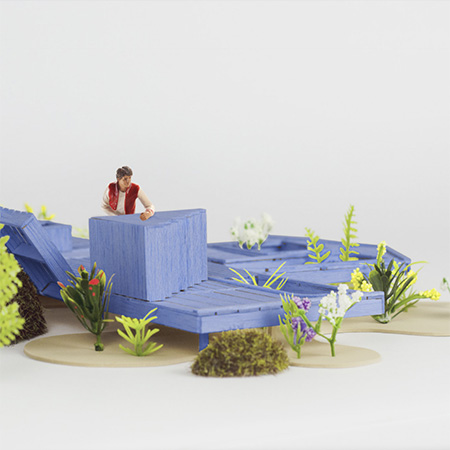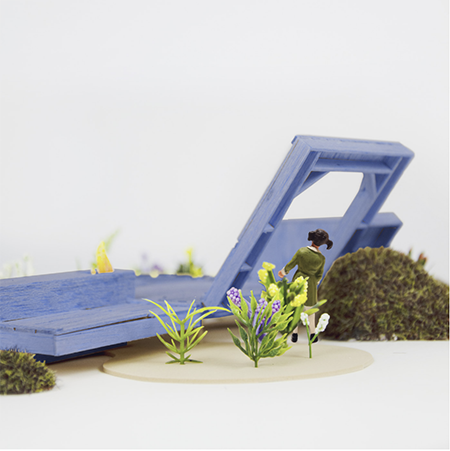 DESIGNERS – ÉQUIPE LEGAGA
Gabriel Lemelin

– M. Arch
Francis Gaignard

– Tech. Arch, M. Arch
Sandrine Gaulin

– M. Arch
Designers:
"Legaga" is the title of the shared document where we stored all of the extracurricular projects we completed while in school. Now, the name reminds us of how much fun we have creating together. We see every project as an opportunity to throw assumptions out of the window and find new ways of interacting with the public. Our projects exploit the unique possibilities and qualities of the world around us.
Quebec, CANADA
CHOOSE YOUR
OWN ADVENTURE
Présentation jardin
En pleine pandémie mondiale, causée en partie par le réchauffement climatique et ses effets indéniables sur tous les organismes vivants, combattre les changements climatiques en changeant la relation toxique que nous entretenons avec les organismes vivants et autres éléments de la nature, dont la terre, l'eau, l'air, les plantes et les animaux, s'avère crucial. Repenser notre rapport à la nature, après avoir vécu en confinement, peut s'amorcer avec l'appréciation de phénomènes naturels : le vent qui souffle, l'écorce mouillée, l'ombre musquée, l'air sec, une odeur florale, une pierre chaude, le gravier qui crisse… Le jardin remet en question les images fixes publiées sur le Web qui rappellent le pittoresque du 18e siècle. Malcolm Andrews disait que les touristes à la recherche de paysages parfaits tentaient de les figer, tels des trophées, afin de les vendre ou de les accrocher aux murs de leur salon (alias Instagram du 21e siècle!). Toutefois, un paysage ne se reproduit jamais deux fois; voilà pourquoi son manque de fixité et ses expériences hyper sensorielles sont mis en évidence par cette simple matrice que forme le jardin. Les bandes de plantation est-ouest intersectent les bandes nord-sud composées de matériaux durs. CHOISISSEZ VOTRE PROPRE AVENTURE – sentez, touchez, écoutez, goûtez et regardez.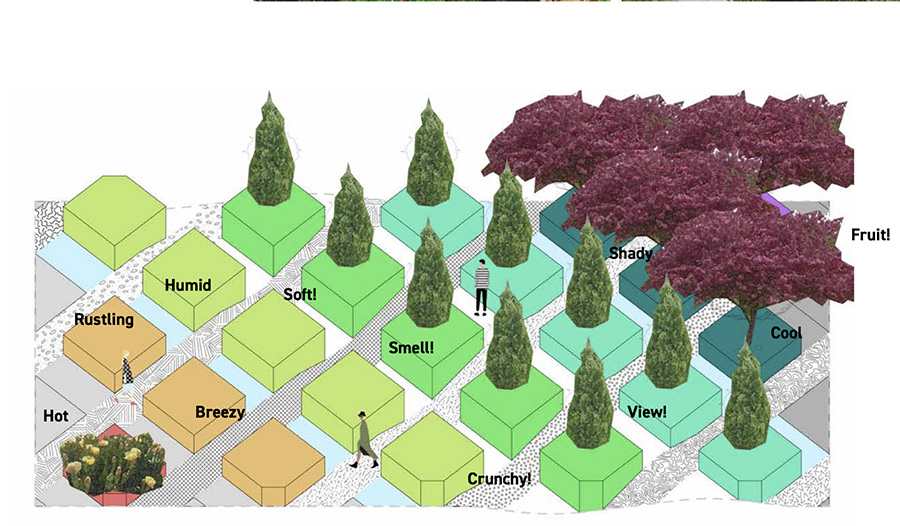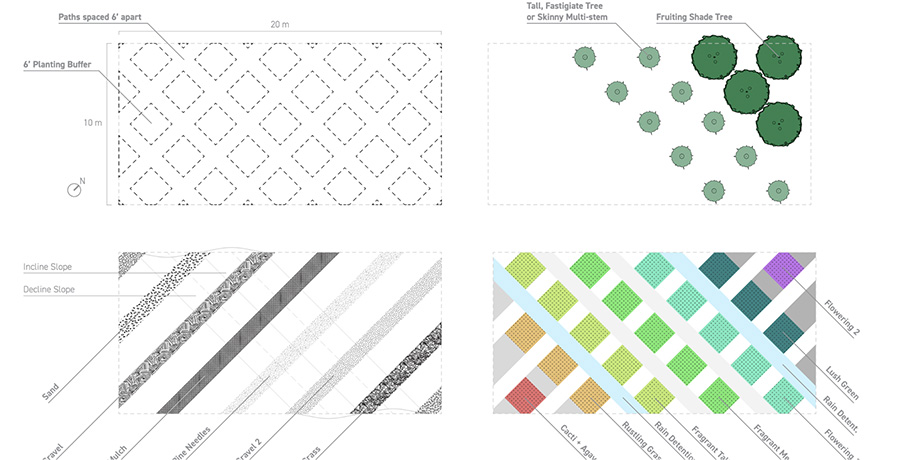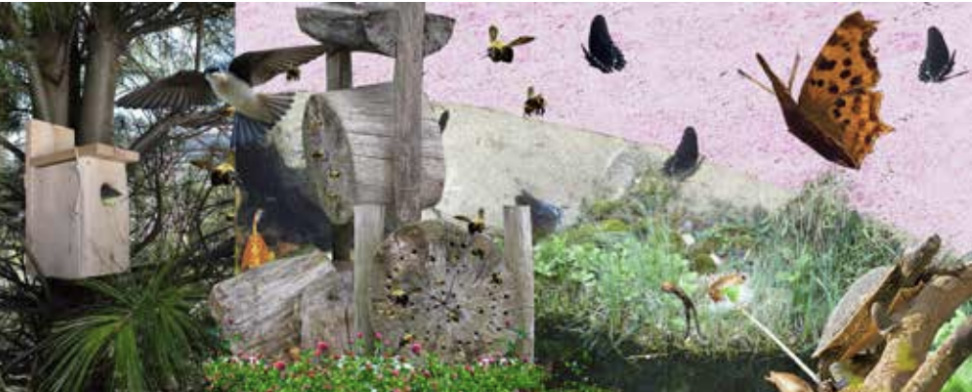 DESIGNERS
Chris Liao
Noemie Lafaurie-Debany
Javier Gonzalez-Campana
Simon Escabi
Cristina Preciado
Balmori Associates, Landscape and Urban Design est une agence paysagiste urbaniste expérimentale qui explore la ligne entre le paysage et architecture, et entre la nature et la culture. Le paysagisme est aujourd'hui une discipline, un art. Nous aspirons à le représenter sous diverses formes artistiques. Il est multidisciplinaire, tout comme notre équipe. D'une grande importance pour le public, il joue également un rôle majeur dans la lutte aux changements climatiques. En ce sens, nous développons de nouvelles stratégies issues de l'interaction entre l'eau, la terre, les plantes et les organismes vivants.
New York, ÉTATS-UNIS
Garden description
Sound mirrors are passive devices used to reflect and focus sound waves. Historically, they were implemented across the coast of Great Britain during World War I to detect incoming enemy aircraft. Sound waves bounce off the parabolic reflector and meet at the focal point where they are amplified, creating the illusion that whatever is making the sound is right next to you. Miroirs acoustiques consists of two parabolic reflectors (recycled aluminum antennas) planted in the ground. Positioned back-to-back, one points to the festival, an anthropogenic environment, and the other points to a forested area and the St. Lawrence. Visitors are invited to experience the two contrasting sound scapes. 
The focal point is marked on the ground showing visitors where to stand. A hole in the centre of the sound mirrors encourages visitors to observe the environment on the other side of the installation and, in doing so, places them in the optimum position to hear the focused sound waves.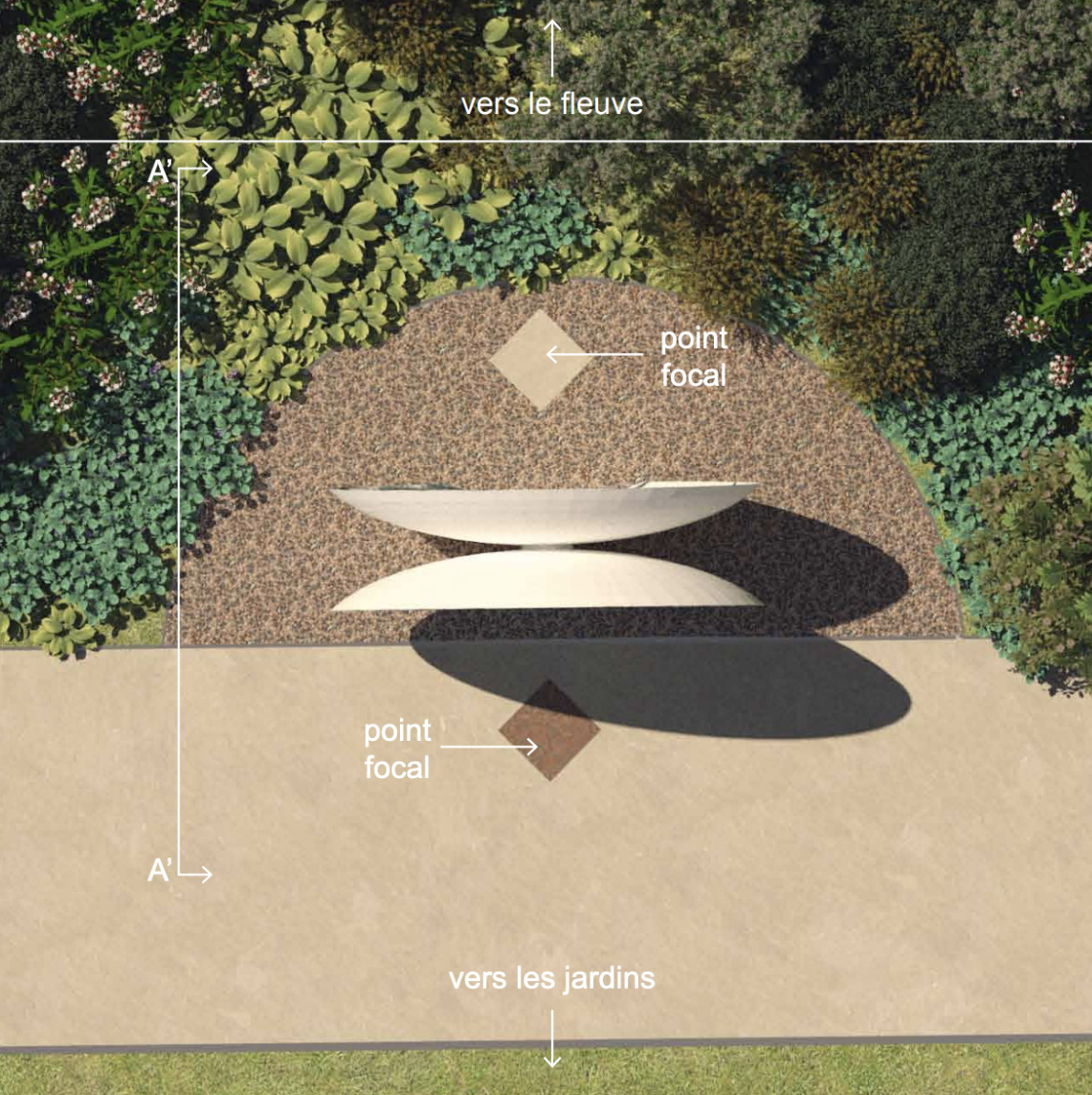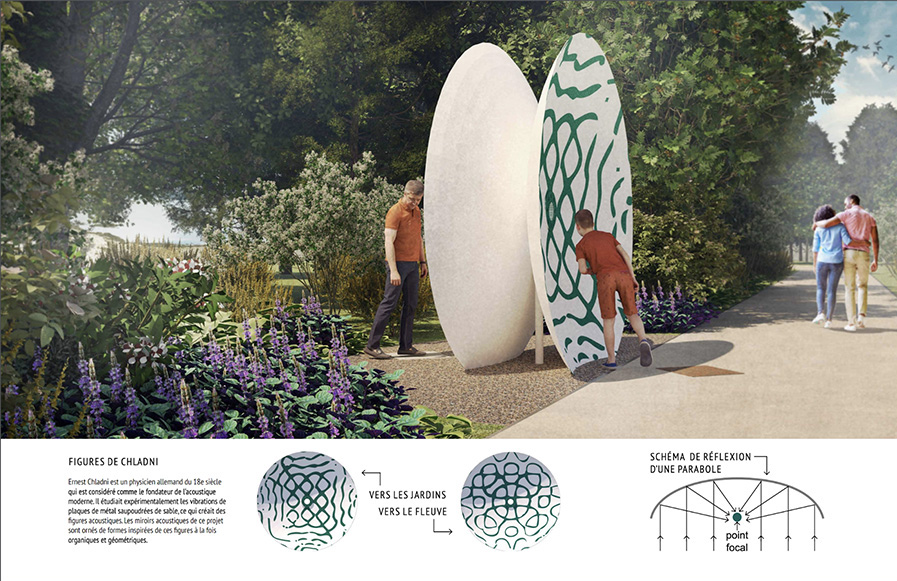 DESIGNERS
Emmanuelle Loslier – landscape architect 
Camille Zaroubi –  landscape architect 
Project consultant: Vincent Loslier, civil engineer
Emmanuelle Loslier and Camille Zaroubi are landscape architects and musicians. They are particularly interested in natural phenomena that enable them to include movement and sound in their work. Their installations feature local materials or procedures and are brought to life through natural phenomena. Emmanuelle Loslier and Camille Zaroubi's works emphasize repetition, symmetry, series and recurrences. From tiny particles to expansive landscapes, the sensory values of the environment amplify and become increasingly apparent until they are completely immersive.
Montreal, CANADA
Présentation jardin
On les aperçoit de loin – créatures inconnues et familières qui s'érigent dans le champ – semblant attendre. Elles captent la lumière du soleil et émettent une chaude lueur dorée. Le vent les fait bouger légèrement. Elles forment une constellation triangulaire, regroupées, sans jamais être trop près les unes des autres. Elles sont de la même espèce, mais chacune a sa propre forme, sa propre expression. Un élément de la nature s'est transformé en entité vivante. En s'approchant, on constate que cette entité est composée de millions d'objets distincts : des brins de foin. Tout près, on peut sentir son odeur franche et toucher la chair à la fois piquante et douce de sa structure. Puis on y entre. La pandémie de la COVID-19 nous a beaucoup appris. Elle a mis en évidence notre éloignement face à la nature et à l'agriculture ainsi que l'importance de la biodiversité. À l'échelle mondiale, un regain pour les méthodes traditionnelles et durables d'habiter notre terre émerge. Hässja est une installation basée sur l'un de ces arts presque perdus de travailler le sol : les structures de séchage du foin. Ces trois structures, faites à partir des plantes mêmes qui les entourent, ne sont pas uniquement éducatives; elles sont formées et disposées pour mettre en valeur les qualités inhérentes dont elles sont les héritières. Contrairement aux structures de séchage du foin habituelles, celles-ci sont dotées d'une chambre intérieure. Ce petit espace constitue un refuge contre le monde d'aujourd'hui, en plus de proposer une réflexion sur la relation de l'homme avec la nature et sur ses façons, passées et futures, d'habiter la terre.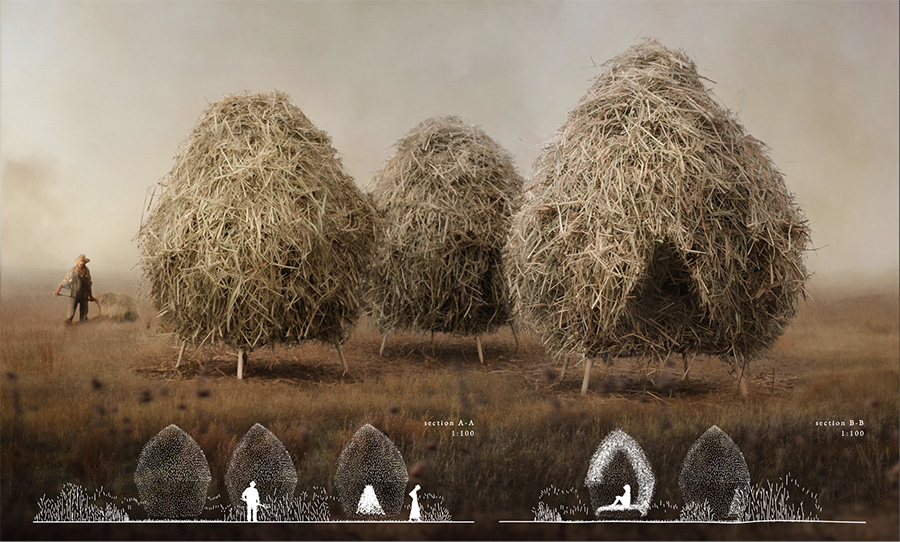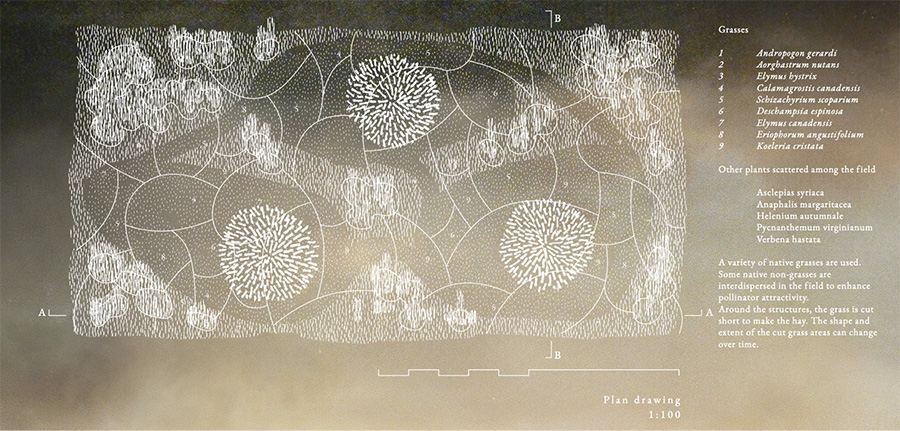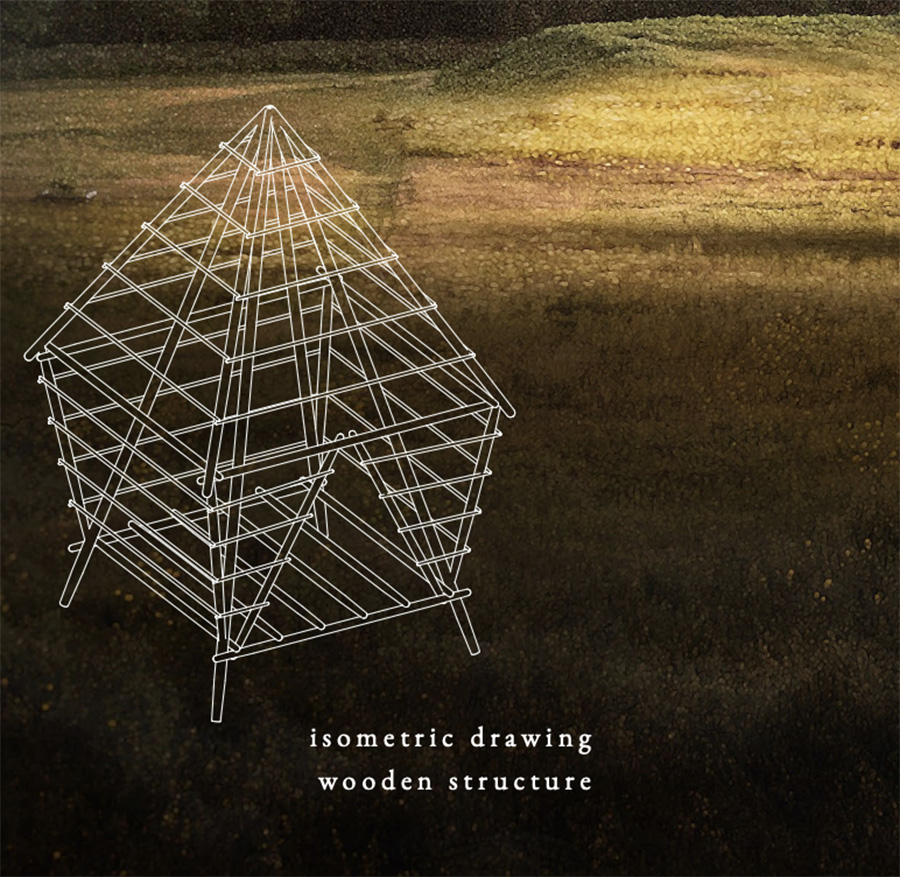 DESIGNER
Emil Bäckström – architecte
Emil Bäckström est né à Östersund, en Suède, en 1985. Il a étudié l'architecture au Royal Institute of Technology, à Stockholm, à l'Accademia d'architettura, à Mendrisio, et à la Royal Academy of Arts, à Copenhague, au Danemark. Il a également fait des études en conservation architecturale au Royal Institute of Art, à Stockholm. Il a co-fondé Petra Gipp Studio avec Petra Gipp and Jonas Hesse en 2018, et dirige aujourd'hui son propre cabinet. Profondément enracinée dans la tradition des transformations matérielles, l'architecture d'Emil Bäckström fait toujours corps avec l'environnement qui l'entoure.
Stockholm, SUÈDE
CONTEMPORARY GARDENS
Contemporary gardens
CONTEMPORARY GARDENS
Previous Editions